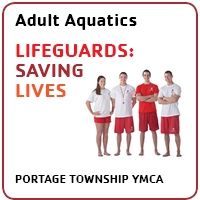 Aquatics Instructors & Lifeguards
by Brianna Manning | January 20, 2020
Are you passionate about protecting your community? Do you love swimming? Join us at the Portage Township YMCA as a lifeguard!
We have an immediate need for talented EVENING lifeguards. Must be available T/TH, 4pm-7pm. Additional hours are available in other YMCA departments such as sports which requires evening and weekend availability.
Position Summary: Maintains safe swimming conditions in the pool, deck, and surrounding areas. Creates a safe and positive atmosphere that promotes member safety and engagement in accordance with YMCA policies and procedures. Instructs participants according to YMCA of the USA Standards and follows curriculum.