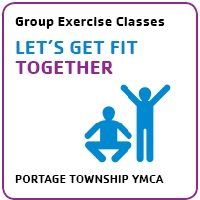 Group Fitness Instructors
by Rose Marie | April 16, 2018
Do you have passion for helping people achieve their fitness goals? Why not get paid for doing something you love? We are looking for engaging, energetic, & nationally certified Group Fitness Instructors, specifically with evening and weekend availability. The Portage Township YMCA is open 4am-9pm, Monday-Friday and 6am-6pm, Saturday & Sunday.

Applications, resumes, and applicable certifications may be submitted online to Apply@ymcaofportage.org or dropped off at the Y's Welcome Center.
The PORTAGE TOWNSHIP YMCA is an equal opportunity employer and does not discriminate in recruitment, hiring or other terms or conditions of employment on the basis of race, color, religion, national origin, sex, disability, age or any other status protected by law.