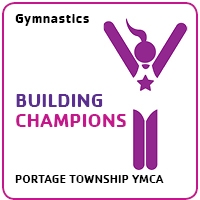 Gymnastics Coach
by Cathi Srednoselac | July 19, 2018
The Portage Township YMCA offers recreational, progressive, and non-sanctioned competitive team gymnastics for children ages 18 months and older. We are looking to strengthen & expand our program with coaches that will provide group gymnastics instruction, monitor and educate patrons on fitness and safety, and maintain a safe and enjoyable atmosphere for class participants. Reliable and consistent attendance is required.
Applicants must:
Have prior gymnastics experience
Be at least 15 years of age or older
Ability to complete CPR, AED, First Aid certifications, Child Abuse & Neglect Detection & Prevention trainings within 90 days of hire.
The PORTAGE TOWNSHIP YMCA is an equal opportunity employer and does not discriminate in recruitment, hiring or other terms or conditions of employment on the basis of race, color, religion, national origin, sex, disability, age or any other status protected by law.