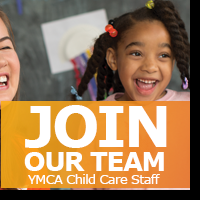 School-Age Child Care Coordinator
by Erin Robles | October 1, 2019
The Portage Township YMCA is now accepting applications for the School Age Child Care Coordinator position. Compensation and employment status are still under review. Applications will be accepted through October 31, 2019.
Eligible candidates must be at least 21 years of age or older and have at least 2+ years verified previous management experience or an Associate's Degree in Child Care of related field.
Qualified candidates should exhibit the following characteristics:
Organized, efficient use of time, ability to plan and delegate, strong understanding of youth development for children in grades K - 8, accepts change and takes initiative, works well under pressure and is a team player. Working knowledge of LLEP and CCDF is preferred.
The School Age Child Care Coordinator is responsible for the planning, administration and supervision of the before and after school child care program, Y-Care, as well as, the School's Out Y's In program.
---
The PORTAGE TOWNSHIP YMCA is an equal opportunity employer and does not discriminate in recruitment, hiring or other terms or conditions of employment on the basis of race, color, religion, national origin, sex, disability, age or any other status protected by law.