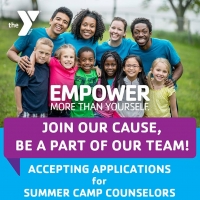 Summer Camp Counselors
by Teaundra Smith | December 20, 2019
The Portage Township YMCA is Accepting Applications for 2020 Summer Camp Counselors. Qualified candidates must be at least 18 years of age or older, have a passion for working with children and actively demonstrate the Y's core values or Caring, Honesty, Respect, Responsibility and Faith.
Shifts and hours will vary between the hours of 6:30am - 6:30pm, Monday - Friday.
Interested applicants may complete an employment application and turn into the Welcome Center in the lobby or apply directly on facebook. Resumes may also be emailed to Apply@ymcaofportage.org.
The PORTAGE TOWNSHIP YMCA is an equal opportunity employer and does not discriminate in recruitment, hiring or other terms or conditions of employment on the basis of race, color, religion, national origin, sex, disability, age or any other status protected by law.