Connecting spirit, mind and body
Wellness doesn't just live in the gym, it's everything that's inside of you. Easing stress, proper nutrition, rest and recovery, and more all play their role in helping you better yourself. Programs such as Welcome to Wellness, Personal Training, Group Exercise, Massage Therapy and others are all offered at the Y to give you the resources you need to address every aspect of your personal wellness.
---
GROUP EXERCISE
True strength lies in numbers, that's the theory behind our Group Exercise Classes. If you like the camaraderie, the friendship, and the fun of working in a group setting, then these classes are the place for you. Not in the best of shape? No worries, there's something for everyone from complete beginners to advanced athletes. At the Y, you never walk alone. We're all in this together, so come join a Group Exercise Class today.

Printable Group Exercise Schedule & Class Descriptions
---
Commit to be fit with this 6 week weight loss program designed to help you make lasting results through developing behaviors that support a healthy lifestyle.
$150 For Non-Members
Days/Times TBD
Price includes:
-Individual Intro/Exit Goal Session
-Two Weight Loss Specific Group Workouts Each Week (6 Weeks of workouts)
-Weekly Nutrition Tracking and Accountability
-Fitness Evaluation & Body Composition Analysis
-Weekly Trainer Tips & Tricks for Success
---
FREE Wellness Challenges designed by our Wellness Coaches are provided each session cycle to challenge our members to get out of their fitness comfort zones! Each session is a new challenge to keep you motivated! Members who participate in the Wellness Challenge will be entered into a drawing for a prize! Join at any time during the session. The more consistent you are the better your chances of winning!
Find more info about the challenge by the Wellness desk.

Current Wellness Challenge: May Challenge

May Wellness Challenge Prize

April Wellness Challege Winners

Ask one of our highly trained Wellness Coaches for more info and to sign up!
With all of the programs and services the Y has to offer, it is sometimes overwhelming to know where to start. Welcome to Wellness is our FREE member orientation program. These one hour appointments help you to become familiar with the equipment, services and staff here at the Y. Schedule your appointment at the Welcome Center today!
· Cardio Orientation
· Cybex Strength Training Orientation
· Body Composition Assessment
· Next Step Consultation

HOURS
*By appointment only
Welcome to Wellness includes:
Being connected with one of our trained Wellness Coaches who can discuss your personal health-related goals and develop an exercise program to help you meet your goals

Instruct you on how to properly and safely use all cardiovascular and resistance training equipment

If desired, hold you accountable by regularly checking to ensure that you're regularly coming to the Y

Whether you're new to the Y or a veteran member, a first time exerciser or a champion triathlete, these personalized appointments are always available to any Y member.

Stop at the Welcome Center or call 219.762.9622 to schedule your Welcome to Wellness appointment today!
---
As a member, you are given the opportunity to work one-on-one with a certified personal trainer in order to enhance your workout experience. Learn how to better your exercise with specialized and personalized cardiovascular and strength training sessions.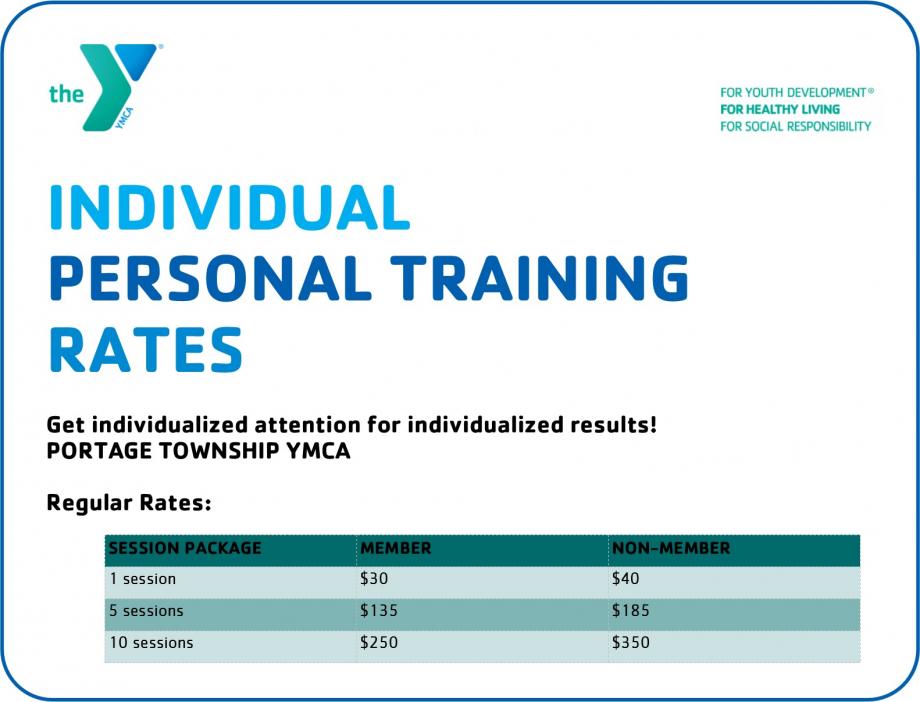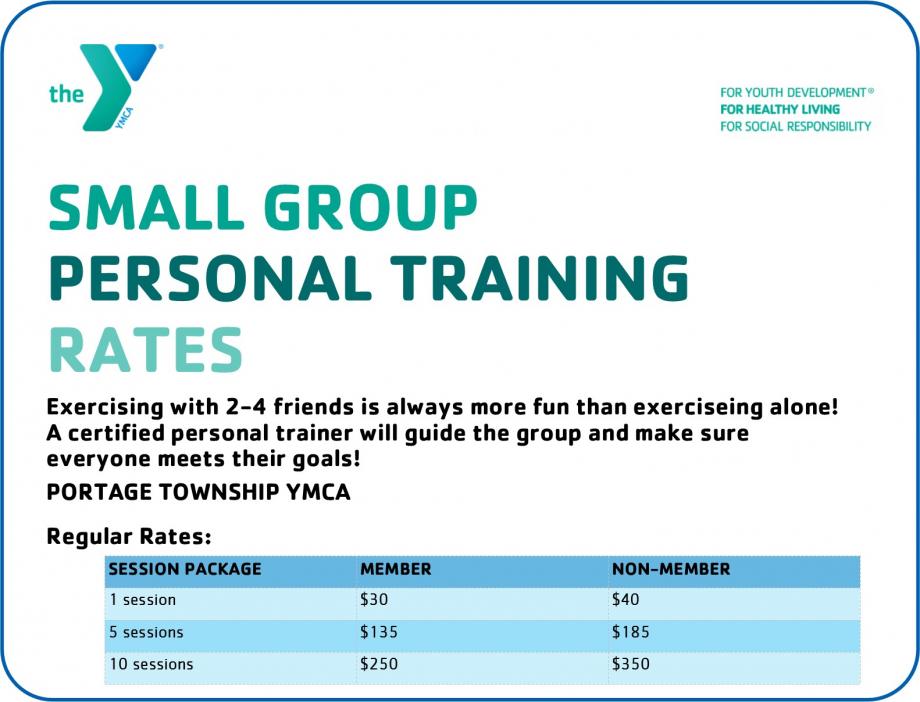 For details contact the Welcome Center today at 219.762.9622.